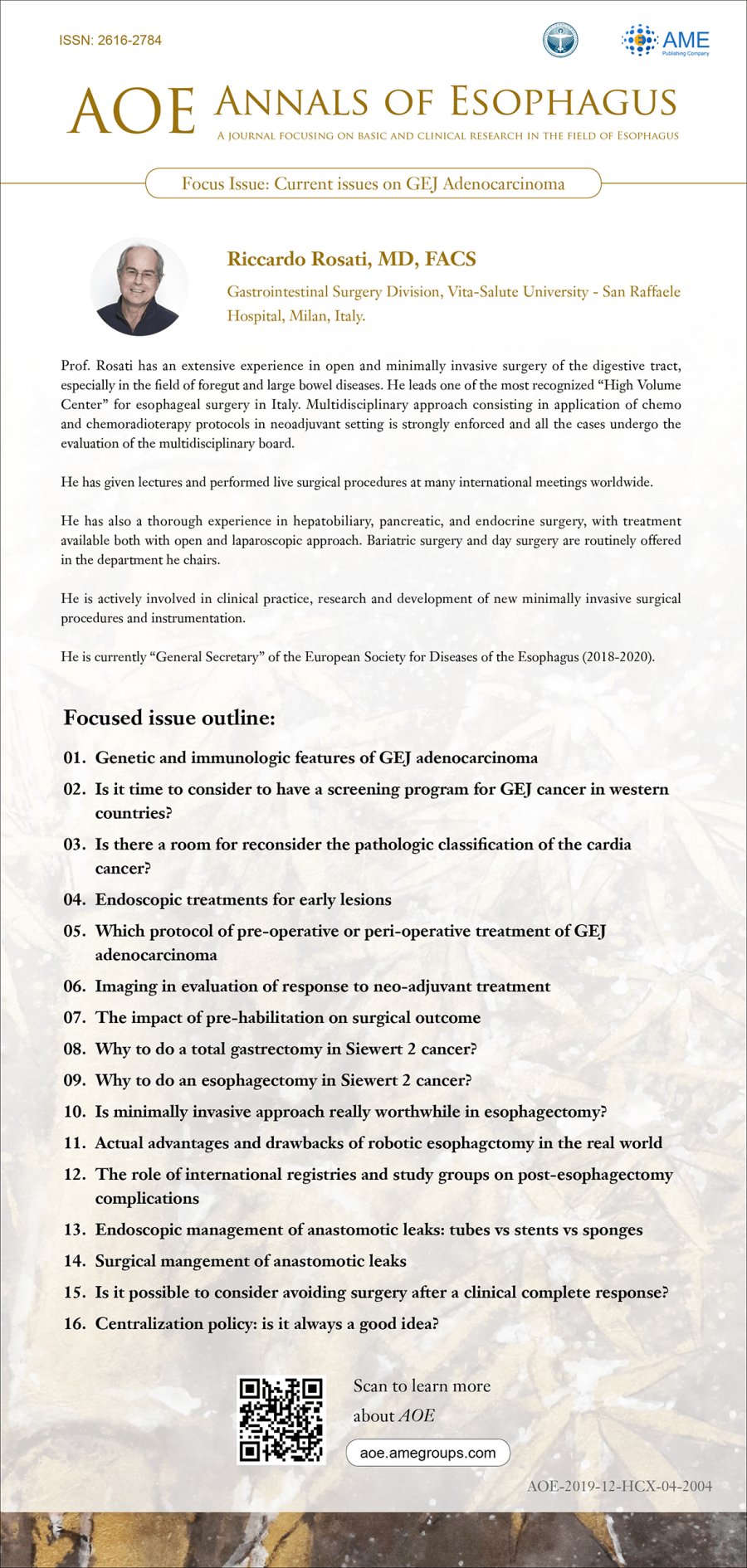 This focused issue on "Current issues on GEJ Adenocarcinoma" is edited by Prof. Riccardo Rosati, from Gastrointestinal Surgery Division, Vita-Salute University - San Raffaele Hospital, Milan, Italy.

This focused issue is designed to discuss current issues on GEJ adenocarcinoma. It features complex and controversial issues that are on the minds of many will be addressed by experts such as yourself. This focused issue reviews recent literature, provides expert insight into current practice, and also identifies future directions.
Riccardo Rosati, MD, FACS 

Gastrointestinal Surgery Division, Vita-Salute University - San Raffaele Hospital, Milan, Italy.

Prof. Rosati has an extensive experience in open and minimally invasive surgery of the digestive tract, especially in the field of foregut and large bowel diseases. He leads one of the most recognized "High Volume Center" for esophageal surgery in Italy. Multidisciplinary approach consisting in application of chemo and chemoradioterapy protocols in neoadjuvant setting is strongly enforced and all the cases undergo the evaluation of the multidisciplinary board.
He has given lectures and performed live surgical procedures at many international meetings worldwide.
He has also a thorough experience in hepatobiliary, pancreatic, and endocrine surgery, with treatment available both with open and laparoscopic approach. Bariatric surgery and day surgery are routinely offered in the department he chairs.
He is actively involved in clinical practice, research and development of new minimally invasive surgical procedures and instrumentation.
He is currently "General Secretary" of the European Society for Diseases of the Esophagus (2018-2020).
Focused issue outline:
Genetic and immunologic features of GEJ adenocarcinoma
Is it time to consider to have a screening program for GEJ cancer in western countries?
Is there a room for reconsider the pathologic classification of the cardia cancer?
Endoscopic treatments for early lesions
Which protocol of pre-operative or peri-operative treatment of GEJ adenocarcinoma
Imaging in evaluation of response to neo-adjuvant treatment
The impact of pre-habilitation on surgical outcome
Why to do a total gastrectomy in Siewert 2 cancer?
Why to do an esophagectomy in Siewert 2 cancer?
Is minimally invasive approach really worthwhile in esophagectomy?
Actual advantages and drawbacks of robotic esophagctomy in the real world
The role of international registries and study groups on post-esophagectomy complications
Endoscopic management of anastomotic leaks: tubes vs stents vs sponges
Surgical mangement of anastomotic leaks
Is it possible to consider avoiding surgery after a clinical complete response?
Centralization policy: is it always a good idea?
Disclosure:
The series "Current issues on GEJ Adenocarcinoma" was commissioned by the editorial office, Annals of Esophagus without any sponsorship or funding. Riccardo Rosati is serving as the unpaid Guest Editor for the series.