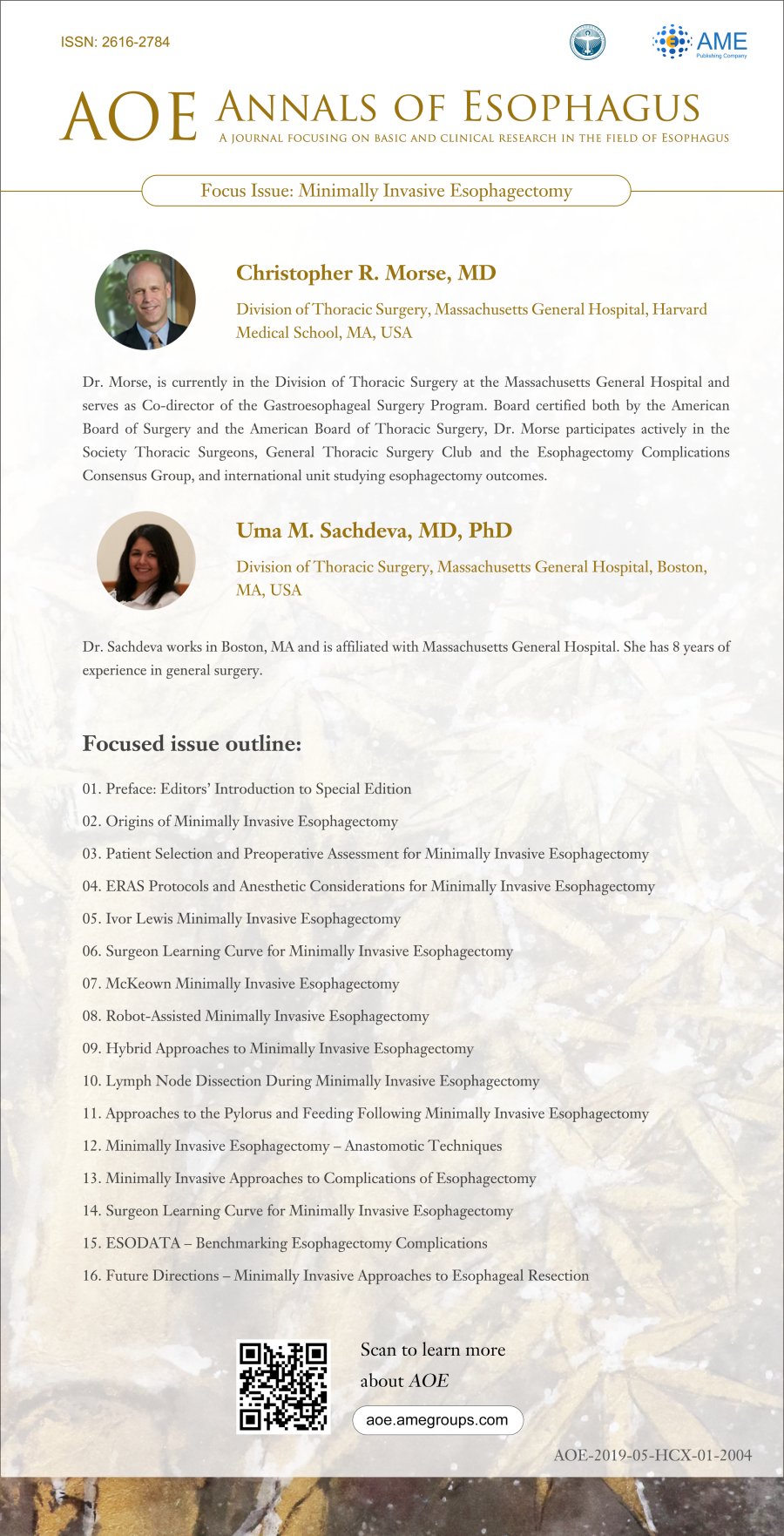 This focused issue on "Minimally Invasive Esophagectomy" is edited by Dr. Christopher R. Morse and Dr. Uma M. Sachdeva from Massachusetts General Hospital, Harvard Medical School, MA, USA
Dr. Christopher R. Morse, is currently in the Division of Thoracic Surgery at the Massachusetts General Hospital and serves as Co-director of the Gastroesophageal Surgery Program. Board certified both by the American Board of Surgery and the American Board of Thoracic Surgery, Dr. Morse participates actively in the Society Thoracic Surgeons, General Thoracic Surgery Club and the Esophagectomy Complications Consensus Group, and international unit studying esophagectomy outcomes.
Dr. Uma M. Sachdeva works in Boston, MA and is affiliated with Massachusetts General Hospital. She has 8 years of experience in general surgery.
Focused issue outline:
Preface: Editors' Introduction to Special Edition

Origins of Minimally Invasive Esophagectomy

Patient Selection and Preoperative Assessment for Minimally Invasive Esophagectomy

ERAS Protocols and Anesthetic Considerations for Minimally Invasive Esophagectomy

Ivor Lewis Minimally Invasive Esophagectomy

Surgeon Learning Curve for Minimally Invasive Esophagectomy

McKeown Minimally Invasive Esophagectomy

Robot-Assisted Minimally Invasive Esophagectomy

Hybrid Approaches to Minimally Invasive Esophagectomy

Lymph Node Dissection During Minimally Invasive Esophagectomy

Approaches to the Pylorus and Feeding Following Minimally Invasive Esophagectomy

Minimally Invasive Esophagectomy – Anastomotic Techniques

Minimally Invasive Approaches to Complications of Esophagectomy

Surgeon Learning Curve for Minimally Invasive Esophagectomy

ESODATA – Benchmarking Esophagectomy Complications

Future Directions – Minimally Invasive Approaches to Esophageal Resection