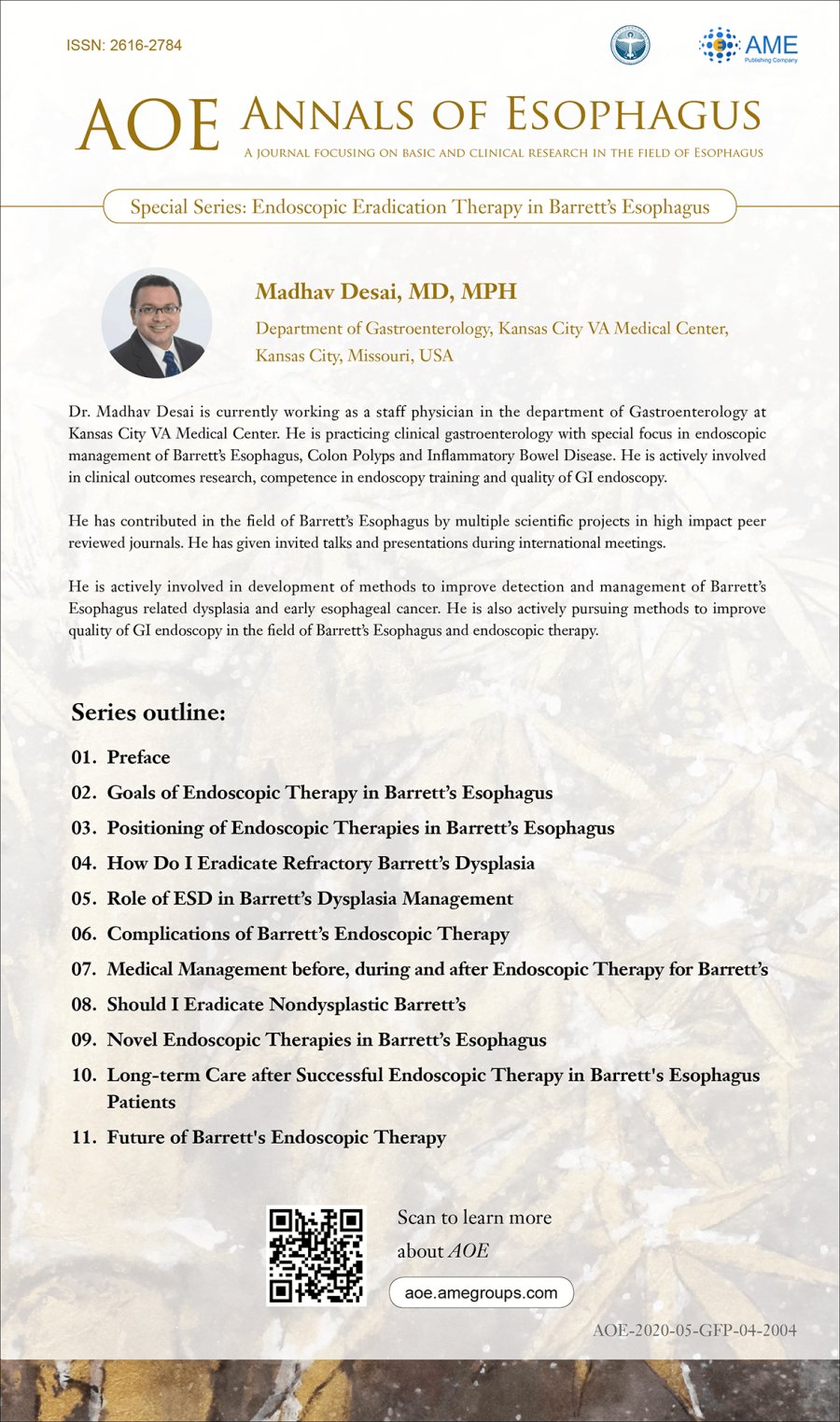 This special series guest edited by Dr. Madhav Desai aims to review existing standards, technologies and tools for endoscopic therapy of Barrett's Esophagus with special focus on dysplasia and early neoplasia. This field is constantly evolving with great strides in recent years. Our goal is also to learn from those excellent international experts who have contributed in this field significantly and have years of experience in the management of Barrett's esophagus related neoplasia. Hopefully. this endeavor will help practicing gastroenterologists and trainees that will ultimately benefit our patients.
Dr. Madhav Desai is currently working as a staff physician in the department of Gastroenterology at Kansas City VA Medical Center. He is practicing clinical gastroenterology with special focus in endoscopic management of Barrett's Esophagus, Colon Polyps and Inflammatory Bowel Disease. He is actively involved in clinical outcomes research, competence in endoscopy training and quality of GI endoscopy.
He has contributed in the field of Barrett's Esophagus by multiple scientific projects in high impact peer reviewed journals. He has given invited talks and presentations during international meetings.
He is actively involved in development of methods to improve detection and management of Barrett's Esophagus related dysplasia and early esophageal cancer. He is also actively pursuing methods to improve quality of GI endoscopy in the field of Barrett's Esophagus and endoscopic therapy.
Series outline:
Preface
Goals of Endoscopic Therapy in Barrett's Esophagus
Positioning of Endoscopic Therapies in Barrett's Esophagus
How Do I Eradicate Refractory Barrett's Dysplasia
Role of ESD in Barrett's Dysplasia Management
Complications of Barrett's Endoscopic Therapy
Medical Management before, during and after Endoscopic Therapy for Barrett's
Should I Eradicate Nondysplastic Barrett's
Novel Endoscopic Therapies in Barrett's Esophagus
Long-term Care after Successful Endoscopic Therapy in Barrett's Esophagus Patients
Future of Barrett's Endoscopic Therapy