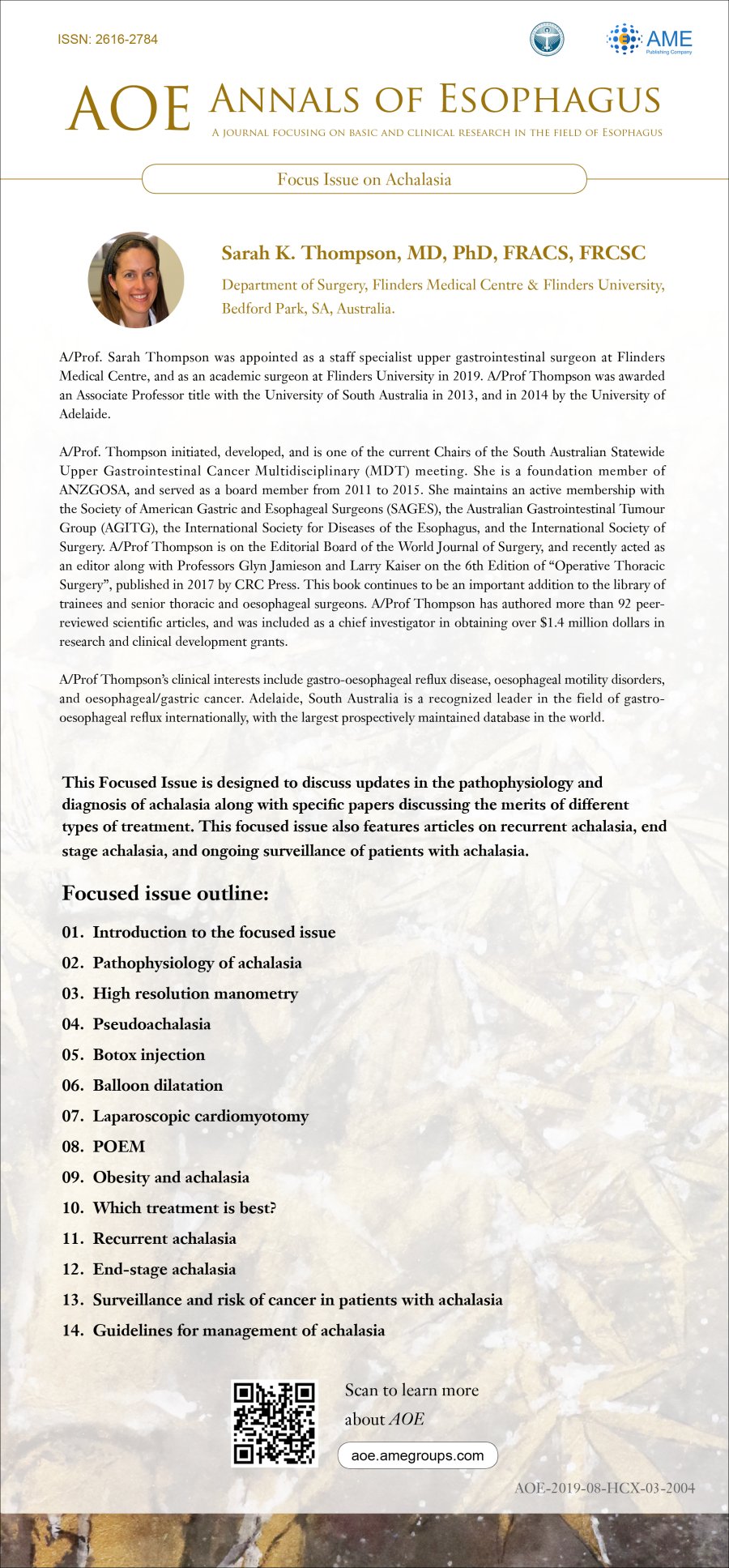 This Focused Issue guest-edited by A/Prof. Sarah Thompson is designed to discuss updates in the pathophysiology and diagnosis of achalasia along with specific papers discussing the merits of different types of treatment. This focused issue also features articles on recurrent achalasia, end stage achalasia, and ongoing surveillance of patients with achalasia.
A/Prof. Sarah Thompson was appointed as a staff specialist upper gastrointestinal surgeon at Flinders Medical Centre, and as an academic surgeon at Flinders University in 2019. A/Prof Thompson was awarded an Associate Professor title with the University of South Australia in 2013, and in 2014 by the University of Adelaide.
A/Prof. Thompson initiated, developed, and is one of the current Chairs of the South Australian Statewide Upper Gastrointestinal Cancer Multidisciplinary (MDT) meeting. She is a foundation member of ANZGOSA, and served as a board member from 2011 to 2015. She maintains an active membership with the Society of American Gastric and Esophageal Surgeons (SAGES), the Australian Gastrointestinal Tumour Group (AGITG), the International Society for Diseases of the Esophagus, and the International Society of Surgery. A/Prof Thompson is on the Editorial Board of the World Journal of Surgery, and recently acted as an editor along with Professors Glyn Jamieson and Larry Kaiser on the 6th Edition of "Operative Thoracic Surgery", published in 2017 by CRC Press. This book continues to be an important addition to the library of trainees and senior thoracic and oesophageal surgeons. A/Prof Thompson has authored more than 92 peer-reviewed scientific articles, and was included as a chief investigator in obtaining over $1.4 million dollars in research and clinical development grants.
A/Prof Thompson's clinical interests include gastro-oesophageal reflux disease, oesophageal motility disorders, and oesophageal/gastric cancer. Adelaide, South Australia is a recognized leader in the field of gastro-oesophageal reflux internationally, with the largest prospectively maintained database in the world.
Focused issue outline:

Introduction to the focused issue
Pathophysiology of achalasia
High resolution manometry
Pseudoachalasia
Botox injection
Balloon dilatation
Laparoscopic cardiomyotomy
POEM
Obesity and achalasia
Which treatment is best?
Recurrent achalasia
End-stage achalasia
Surveillance and risk of cancer in patients with achalasia
Guidelines for management of achalasia